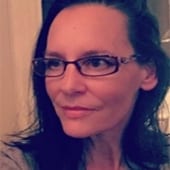 Barbara Dunn is a graduate of the London School of Economics. She subsequently undertook independent research into classical, Arabic and mediaeval astrological practice, while pursuing a career as a freelance astrological consultant and columnist for European publications, such as the Sunday Mirror, Woman's Own and Cosmopolitan.
Barbara received the Diploma from the Faculty of Astrological Studies in 1988 and the Qualifying Horary Practitioner (QHP) in 1990. She was later appointed QHP Head Tutor, teaching and mentoring students world-wide. Olivia Barclay bequeathed the QHP to her in 2001.
Barbara was awarded a grant from the Urania Trust for writing Horary Astrology Re-Examined: The Possibility or Impossibility of the Matter Propounded, published in 2009.
A further grant was awarded in 2014 for studying an MA in History at Exeter University, where she graduated with distinction in 2016. She is currently a second year PhD student in receipt of a doctoral studentship from the Wellcome Trust, supervised by Professor Jonathan Barry and Dr Peter Elmer. Her thesis is entitled: 'Astrology is higher and nobler than medicine and every physician must be an astrologer':  Practitioners, Practices and the 'Prognostical part of Physick' c. 1580-1700.
Barbara has been a contributor to the Astrological Association Journal, the Astrology Quarterly, the Urania Trust website, Watkins Review, as well as a range of national and international newspapers and magazines.